Download the Software mediola® AIO CREATOR NEO for Windows and Mac.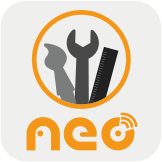 To allow you to test the software extensively, we offer a trial version of AIO CREATOR NEO. You can order a test-key here:
After creating your remote control interface with the AIO CREATOR NEO, you need the free app AIO REMOTE NEO to install your control interface on your mobile device. Click the following links for your OS:
Apple iOS-Version (requires 7.0 and higher)

Android-Version (requires 4.0 and higher)

Desktop Version


Click the following link to get our mediola® a.i.o. creator flex or HM software for Windows or Mac.
After creating your remote control interface with the a.i.o. creator, you need the free app a.i.o. remote to install your control interface on your mobile device. Click the following links for your OS:
Desktop-Version (Requirements: Adobe® AIR)
Apple iOS-Version

Android-Version

Please use the following link to configure your a.i.o. remote account:
In this category we offer some extra tools and helpful programs:
Compatibility list
List of all supported RF-components for the different a.i.o. gateway versions
AIO GATEWAY ConfigTool (Version 1.8.4)
AIO GATEWAY Update Tool (to replace an old gateway with a new one)
AIO Backup (generates a back-up-file automatically)
» for older download-versions (i.e. older versions of the ConfigTool) click here