SMART SOLUTIONS FOR YOUR PRODUCTS
We offer a comprehensive and scalable portfolio of products and services including IP connectors (Gateways), cloud connection and control app to make our B2B customers' devices fit for IoT and cloud-based applications (e.g. remote access). So they can focus on their core business and our technology let them benefit of the global megatrend Smart Home/ IoT.  
With mediola products it is quick, simple and cost-effective to turn any device smart.
AIO GATEWAYS & IoT-MODULE
B2B customers can connect their radio-controlled devices to the smart IP world very easy by using our universal IoT & Smart Home Gateways as an IoT interface. The AIO GATEWAYs support a wide range of proprietary protocols of market leading brands on the 433/868 MHz frequency bands. Additionally they provide support for standards/ defacto-standards like EnOcean, Z-Wave and Homematic IP as well as bus-based systems such as KNX.
Because we are developer of AIO GATEWAY and firmware, it is possible to integrate new proprietary protocols for our B2B customers and create an individual firmware. If B2B devices neither have IP nor wireless support but are equipped with a serial port, we provide a special IoT module to turn these devices smart. Our AIO GATEWAY product line contains models with different performance levels. Additionally we can realize customized white label versions.
To retrofit products that are not equipped for IP communication, we offer our IoT module. It provides the flexibility to implement your specific features in an individual firmware and serves as a communication interface to enable interoperability with other smart devices and services.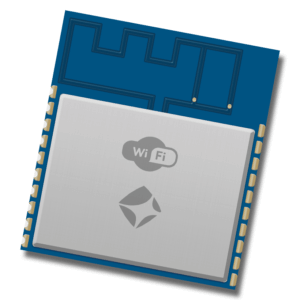 Get your own
App

or

Plugin

to increase your brand awareness in the smart home market!
Based on the IQONTROL NEO framework we develop a white label app for your brand (Apple iOS & Google Android). You are free to choose the functional range as well as the design. From a quick and very cost-effective version, in which we adjust the IQONTROL NEO app to your corporate design and you select the devices support, up to a completely customized app, nearly anything is possible.
Alternatively or additionally, we offer the development of your own AIO CREATOR NEO plugin to support your devices in the AIO CREATOR NEO eco-system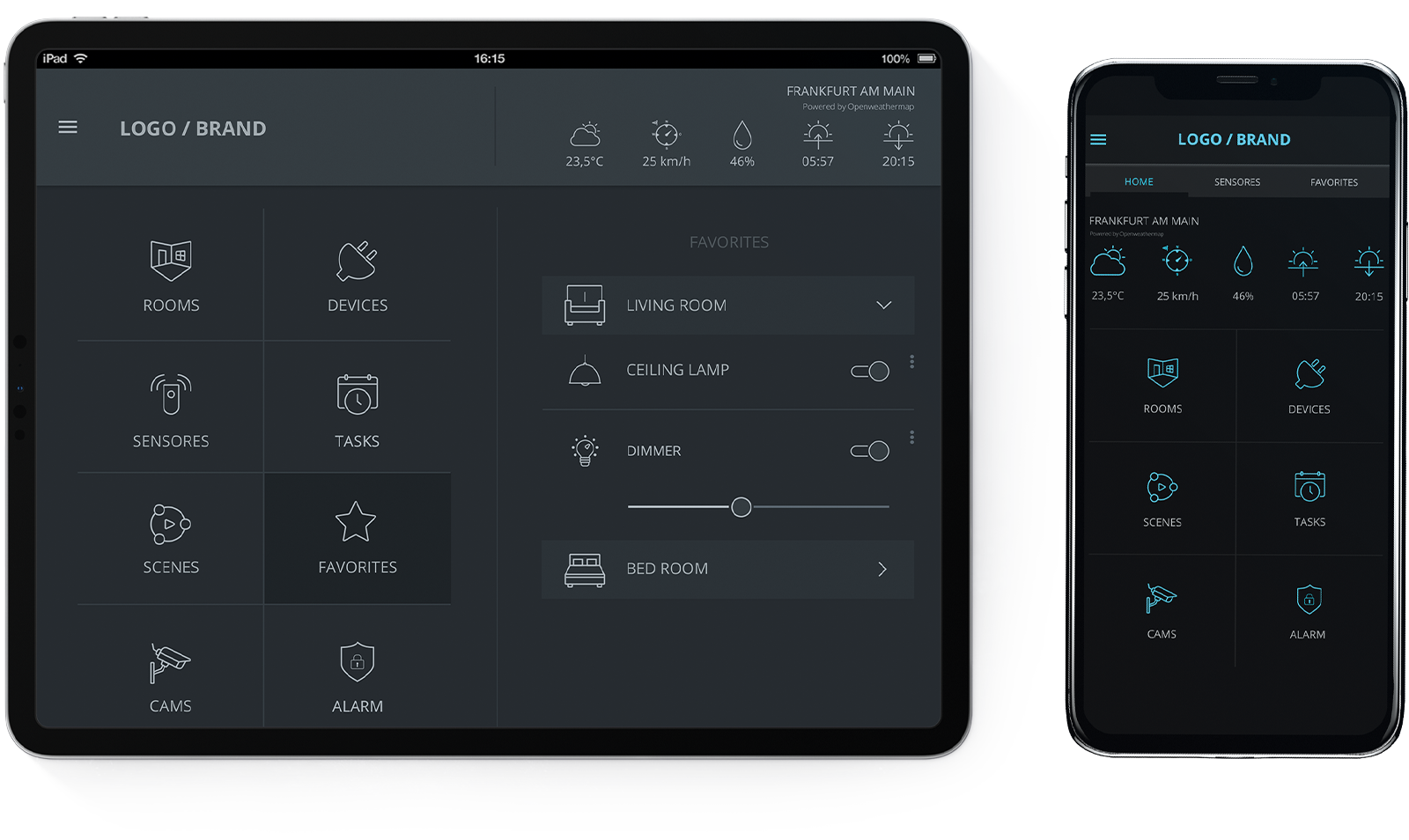 Expand your own product range with
trendy additional products

without any inhouse development!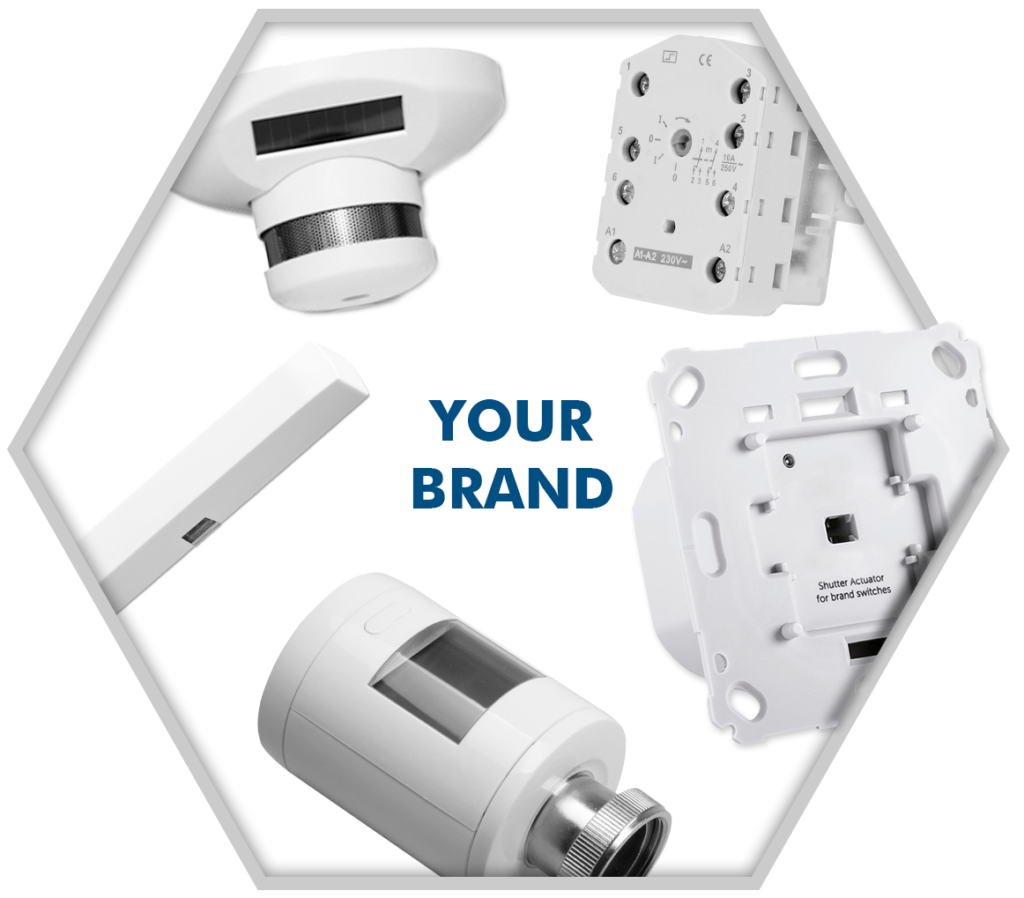 Over the last years Smart Home has become an extremely dynamic and sustainable global hype, largely driven by smart devices and services such as Digital Voice Assistants from Amazon, Google or Apple. Thus, the demand for and use of smart devices in living environments increases rapidly.
Vendors of building equipment such as motor drives for blinds, shades, roller shutters, garage doors or ventilation are more and more under pressure, because their customers demand smart products in addition to their proprietary core products.
From a time-to-market point of view and to shorten cost-intensive development processes, mediola® also offers its B2B customers a comprehensive "white-label" brand range of complementary products such as sensors, light, shading, heating.
With mediola® you can offer your customers a product range that is always "state of the art".
If you are a vendor of IP and/ or radio-controlled products and your goal is to increase their compatibility to devices and systems from other brands, then our works with mediola program (wwm) offers is an ideal entry-level solution to position your products in an attractive smart home environment. With wwm, your products become part of one of the most comprehensive IoT & Smart Home systems. This way your brand will be visible to the large mediola target group with a high technology affinity. As a wwm partner, you have the choice of whether your products should be part of IQONTROL NEO and / or AIO CREATOR NEO.