The powerful All-In-One-Solution for your Smart Home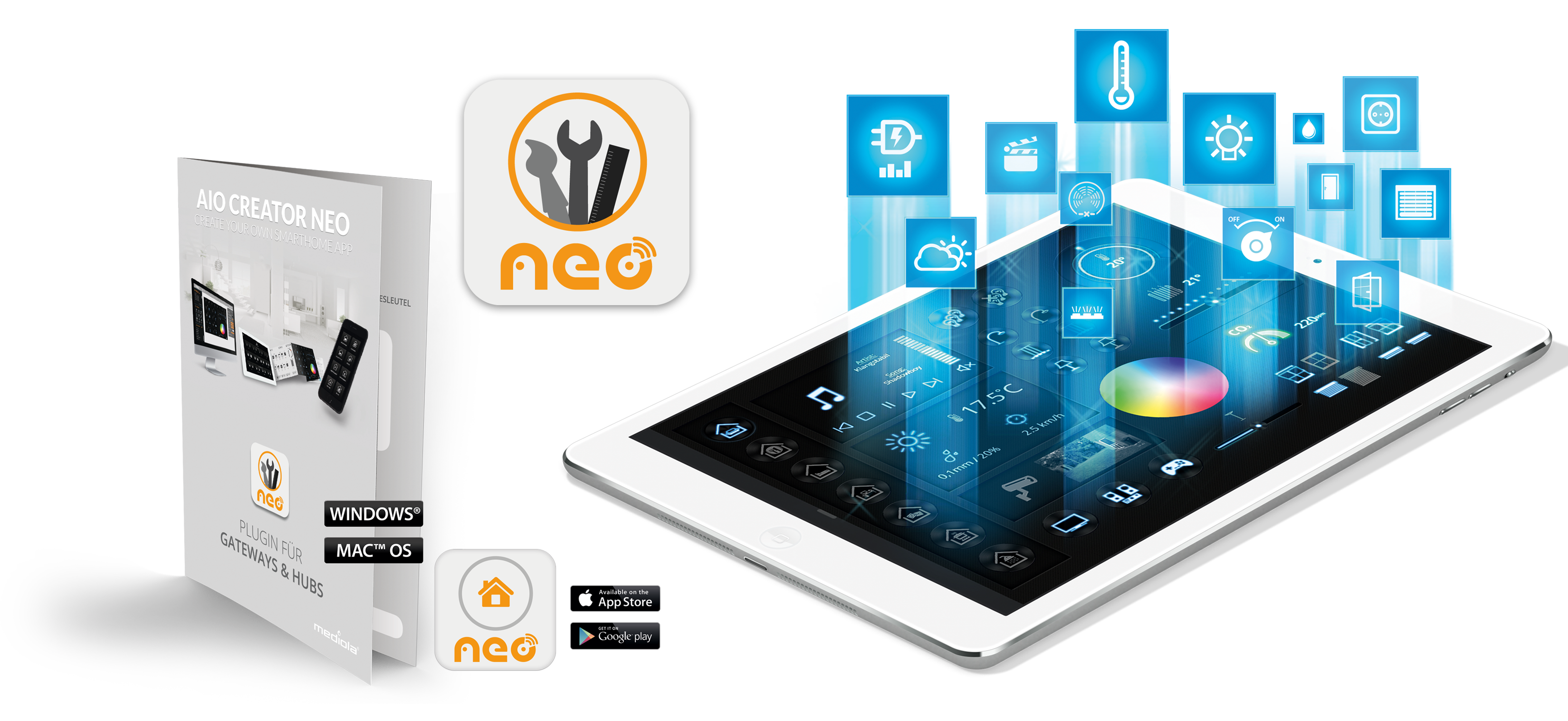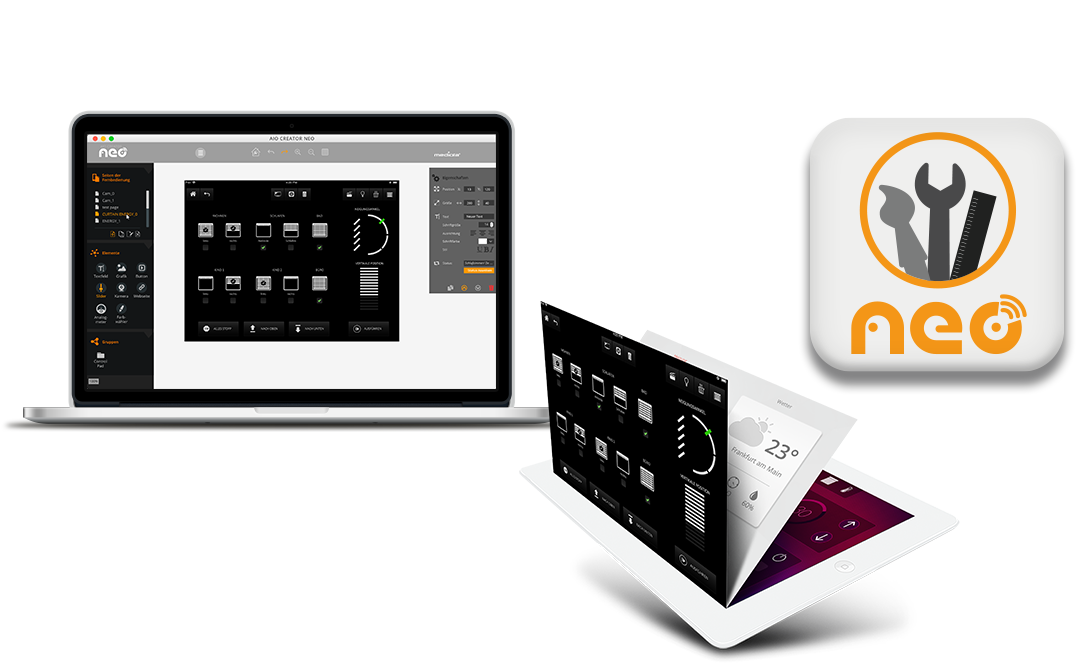 With mediola® AIO CREATOR NEO only your ideas are the limit. You can use this extremely powerful and flexible software to turn your home into a Smart Home easily. NEO combines all your connected devices from all your favourite brands to be controlled with one single app, giving you the freedom to buy smart products from the vendors you trust. Just use NEO to create your totally customized Control App with individual graphics and functions and control your entire home with only one App. NEO provides the following Key Features:
NEO App Designer
Feel free to create your completely customized App by yourself. Simply compose your personal app user interface along your functional needs in your individual Look & Feel.
NEO Icon-Sets
Use our optional Icon-Sets, to create new stylish designs for your app impressively easy.
NEO Plugins
Combine devices of many different technologies and brands seamlessly. Our modular software architecture with a large number of optional plugins allows you to generate a personal brand and devices mix. You just have to buy the plugin you need.

NEO Automation Manager
Our cross-plattform Automation Manager turns your home really smart. Just create automation programs over all integrated devices easily to let the system ease your life by executing some of your daily routines.
You have the freedom of choice, because NEO supports already
AIO CREATOR NEO is really All-IN-ONE. Our extremely flexible plugin-concept allows to build an individual smart home system on a complete modular basis. Just mix building technology, security equipment and audio-video-devices of many different brands in one single App by choosing the NEO plugins you need.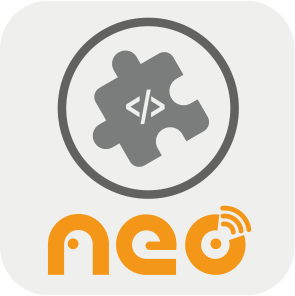 NEO PLUGINS


Getting smarter Step by Step

Dream big, start small! With AIO CREATOR NEO you can design your personal smart home step by step. Add features and devices anytime, as your needs grow, your lifestyle changes or your budget allows. Due to its innovative modular concept with optional Plugins, NEO provides you with a unique flexibility and a maximum of independence.

The large number of available Plugins to integrate popular smart home systems and market-leading technology standards is growing constantly. By using Plug-Ins you can easily unite even incompatible systems seamlessly and control them with only one App. That's smart, future-proof and cost-effective.

NEO APP DESIGNER

your own style the easy way
It has never been easier to create your own Control App in a completely personalized look and feel. With AIO CREATOR NEO you can import individual button images, integrate elements like slider, buttons, websites, ip-camera images via drag' drop, define One-Touch-Scenes and much more. Just try it out and download NEO now. The test of AIO CREATOR NEO is free for an unlimited time period.
You will be extremely surprised how simple and intuitive it is, to style your personal Smart Home App.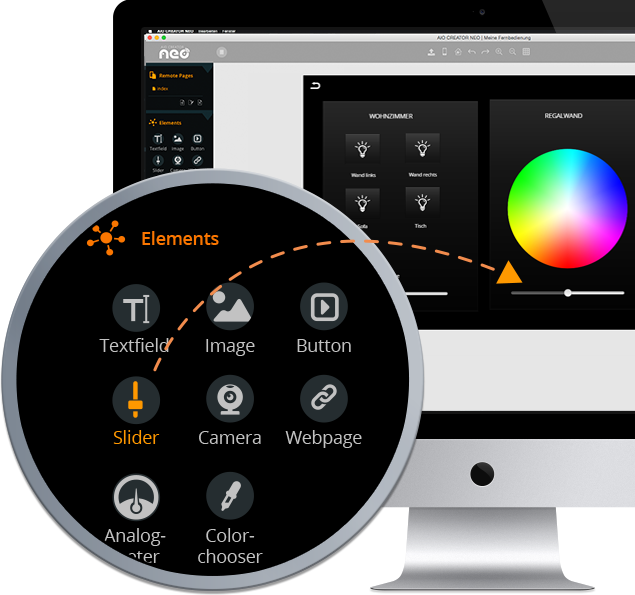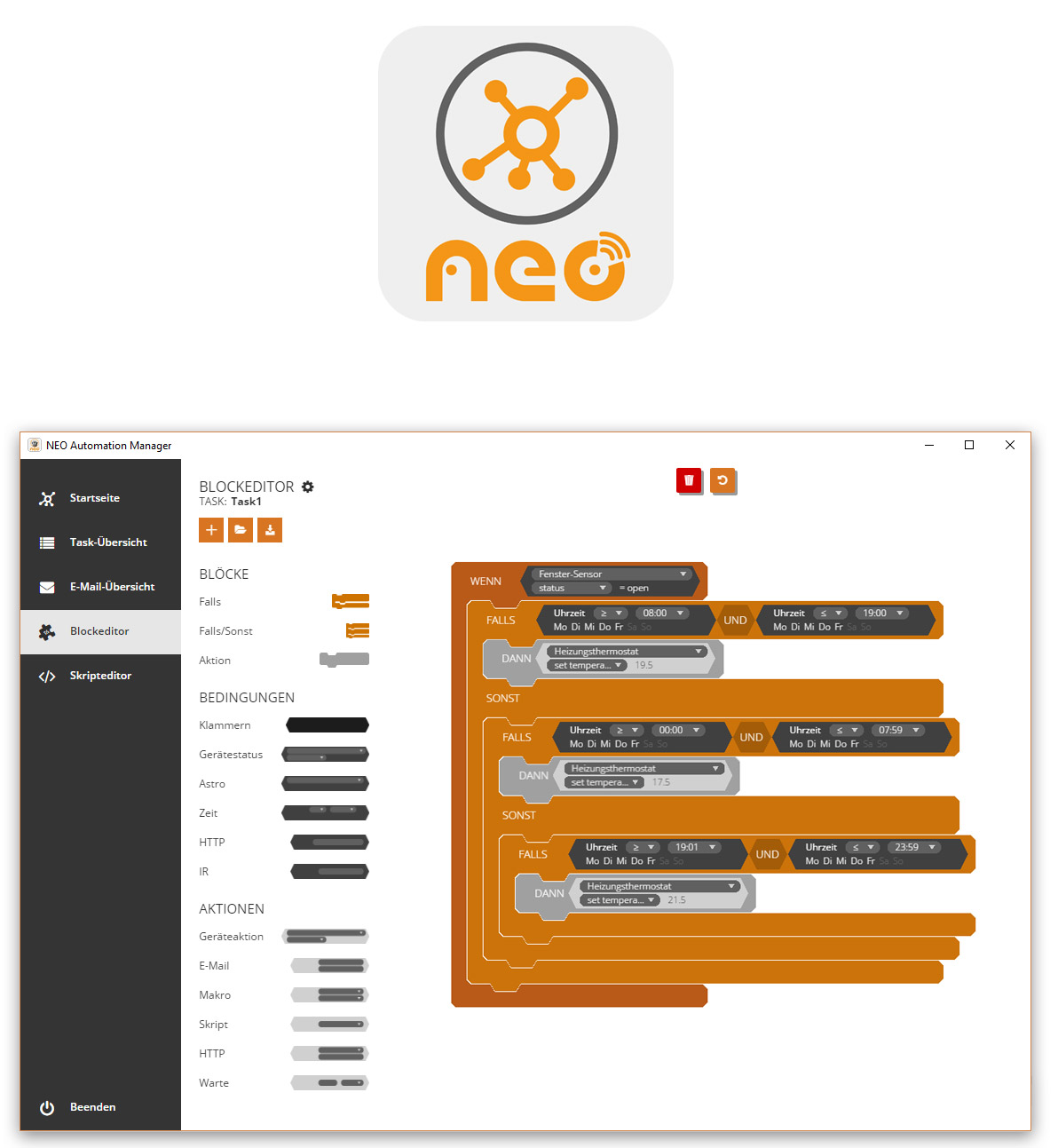 NEO AUTOMATION MANAGER


… and your home gets smart
To add some high-efficient automation features, the new NEO Automation Manager Plugin is now available for NEO. It allows to create rules and conditions for simple and multi-level
automations and works seamlessly across all incompatible platforms of different vendors / brands. This way your home becomes really "smart".
To create and edit the automation programs intuitively, the NEO Automation Manager provides an easy to use graphical frontend – the Block Editor. To use the Block Editor, no automation experience or programming skills are required. Advanced users with programming skills can use alternatively the Scripting Editor to create highly complex automation programs with Javascript.
You will be amazed about the convenience of a smart home, which acts itself. Just lean back and let the system do the job.
Fresh Design
with trendy Icon Sets
AIO CREATOR NEO is fun, because you can design your own App however you like. Additionally NEO offers different trendy Icon sets, so you can enjoy editing, designing and managing your smart home system even more.