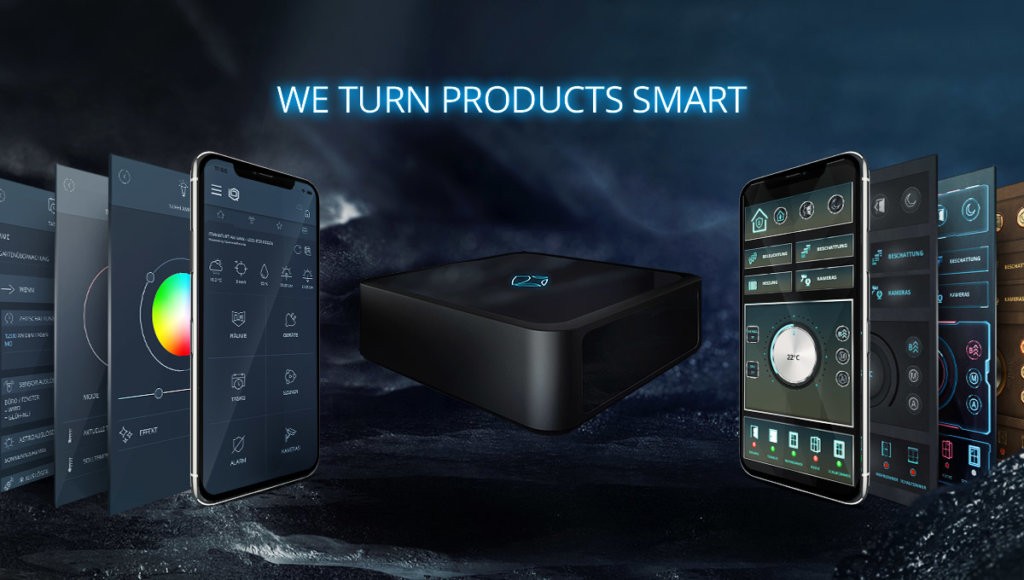 IoT & Smart Home Solutions – The easy way to turn any home smart
Mediola® brings the benefits and convenience of smart living to any home. No matter if your home is still under construction or 100 years old, if you have a small flat or a large villa. Mediola® offers unique products to make each of them the smartest one in town.
Therefore we have developed a comprehensive smart home solution consisting of software, apps, gateways and cloud. Our products transform almost any device into a smart home / IoT-capable device that can be connected to the cloud and controlled centrally by an all-in-one app or by voice. The effect: A smart home system that improves your life with more security, more energy efficiency and more comfort.
USP of mediola® is its open and flexible platform, which is entirely modular and scalable. It allows to connect a wide range of technologies, standards and products from a huge number of brands to a seamless solution. Millions of already installed devices like roller shutters, shades, garage doors and climate control of popular brands like Somfy, Hautau, Elero, Warema, Becker-Antriebe, Roto, Siegenia, Rehau, Internorm, can be connected to modern wireless standards/ defacto-standards such as Homematic IP, EnOcean, Z-Wave, ZigBee and wired systems such as KNX.
With mediola®, you can control, monitor and automate all your lights, shades, air conditioner, heater, audio-video-devices, surveillance-cams, sensors and many more from wherever you are. Just control your entire home technology across brands with a tap, by voice, or completely automatic. To upgrade any home to a smart home and lift it to a new level of comfort has never been easier.
* Click here for a detailed overview of all supported brands (compatibility list)
MULTI-BRAND-SUPPORT
The open mediola® platform works with a wide range of brands and technologies. It allows us to combine even incompatible devices across brand and technology boundaries in a seamless all-in-one solution.
ONE APP CONTROLS EVERYTHING
mediola® combines different brands and standards at the operation level by using its innovative interface technologies. So all your devices can be fully automated and controlled remotely with a user experience as if it were a single homogenous system.
SMART AUTOMATION
mediola® turns your home really smart. Just create automation programs over all integrated devices easily to let the system ease your life by executing some of your daily routines. You will be amazed about the convenience of a smart home, which acts itself.
INDEPENDENT & FUTURE-PROOF
mediola® customers are free to choose the brands they trust. Our extremely flexible solutions are also future-proof, because new technology standards and brands will be integrated to our open platform continuously.
Play Video