mediola wins Smart Home Germany Award 2023 with Matter
Frankfurt am Main, 02 June 2023 – The innovative solutions of the Smart Home specialists from mediola convinced the expert jury of the Smart Home Deutschland Award. While mediola has already been among the award winners earlier, this year the company was selected as winner for its new Matter bridge platform.
The prestigious prize, which is awarded annually by the SmartHome Initiative Deutschland, one of Europe's largest industry initiatives, was presented at a festive ceremony under the patronage of the Governing Mayor of Berlin. mediola was honored for its Matter bridge solution, allowing manufacturers of technical building equipment to connect their existing products to the rapidly growing universe of the new Matter standard.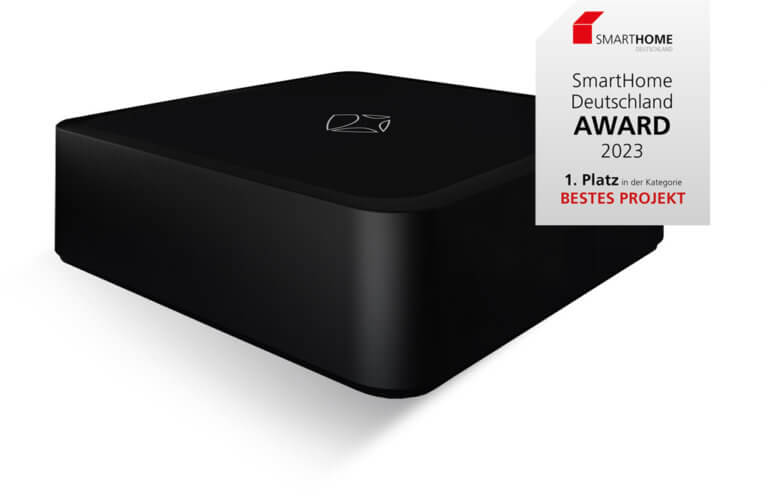 "We are thrilled about this award." said Bernd Grohmann, CEO of mediola. "With our new Matter bridge, we offer the building technology vendors a path to benefit quickly, easily and efficiently from the new market opportunities of the promising Matter standard. Additionally, our solution enables them to maintain independent control over their solutions and thus helps them to successfully master the transformation to a Smart Home 2.0 world. Integrating existing devices and incompatible product lines to Matter not only delivers benefits for manufacturers and customers alike but will equally help increasing acceptance and thus accelerate the smart home market as a whole," Grohmann is convinced.
The bridge's flexible product family structure makes rapid Matter integration possible – without a complete redevelopment of existing products. The Bridge acts as a translation instance that connects non-Matter devices to the new standard and its unified application layer. By using the mediola bridge and connect app, proprietary wireless protocols, previous radio standards and also wired bus systems are integrated with the smart home platforms of Apple, Google, Amazon, and many others. Additionally, through the mediola connect app, building technology manufacturers can benefit from individual features and functions that go beyond the current Matter standard specification. Thereby, vendors retain full control over the feature sets of their products and can meet requirements of specialist retailers and installation companies without increasing the effort for Matter.
Thanks to mediola's innovative solutions, manufacturers of building equipment technology can seize the opportunities from Matter early on and enable their customers to use already installed devices with Matter as well, creating a win-win-win solution.
About mediola®:

mediola is a leading IoT solution provider in Europe with 15 years of experience in the digitization of products. mediola's open and universal platform technology connects a variety of different communication protocols and provides seamless control, automation and interoperability between building equipment and other devices, platforms, software and services. The company's core product is the mediola® Digitization Platform, which includes a comprehensive framework to digitize products installed in buildings and connect them with users' diverse smart consumer devices. mediola offers both digitization solutions such as Matter bridges or modules for manufacturers of technical building equipment products and smart home solutions for end users such as the AIO CREATOR NEO software, which serves as a powerful app designer and configurator for freely generating self-designed smart home apps that connect many incompatible devices across brands. The company was founded in 2007 and is majority-owned by tecnovum AG, Frankfurt Main.


press contact:
Jürgen Lux
presse@mediola.com
+49.69.968703.24